Zak Paster – Founder
After graduating college with a B.S. in Business and a B.A. in Spanish, Zak moved to Buenos Aires, Argentina to work for Zurich Financial Services. During his time there, he helped set up investment plans for U.S. multinationals during the 2001 economic crisis. After Argentina, Zak moved to Brazil and began doing strategy consulting work for local public and private institutions. He also completed an AIESEC traineeship in the north of Rio de Janeiro, which exposed him to the region where we are located. After one year in Brazil, Zak founded Community in Action in the Complexo do Alemão favela. His ultimate goal was to design an organization that could act as a platform for social entrepreneurs to deliver community outreach programs, working with local resources.
After five years in Latin America, Zak returned to the U.S. to complete his MBA, with a concentration in Consulting and Sustainable Enterprise, at The University of North Carolina Kenan-Flagler Business School in Chapel Hill. For his summer internship, he worked as a Foreign Service Intern for the Department of State at the U.S. Embassy in Brasilia. Currently, Zak is working as a Strategy Consultant with Booz Allen Hamilton in Washington D.C., primarily focusing on Change Management programs for the federal government. He provides strategic planning, project management, and operating model design support for diverse public-sector initiatives. Zak recently completed a Master of Liberal Arts with a Government concentration at Harvard University Extension School.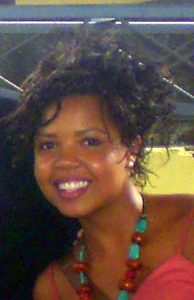 Luiza Paster – Founder
Luiza is from Rio de Janeiro, Brazil. She has been working with non-governmental organizations that provide social services to underserved residents for the last 15 years. Her involvement with community leaders began when she was in high school. Since then, Luiza has worked in hospitals that attend to cancer and HIV/AIDS patients; she has provided counseling services to impoverished residents in favelas around Rio; and she has collaborated with local schools to provide educational services for underprivileged children.
Luiza helped launch Community in Action when the initial legal processes and business plans were developed in 2004. In April 2005, she managed many of the community outreach initiatives, networking with diverse stakeholders throughout the favela. She worked with public entities, community organizers, and volunteers to develop social programs and lift Community in Action off the ground. She also recruited new team members to expand the NGO in its infant stages and established many long-term partners to ensure sustainability. Her connection to women in the community drew in many committed volunteers, who are still with us today. Luiza received her B.S. in Business Administration and MBA from the Universidade Catolica de Brasilia.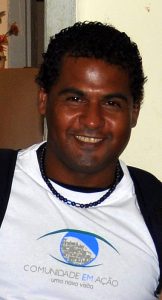 Walmir dos Santos – Brazil Board Chair
Walmir was born in Rio de Janeiro and grew up in the Complexo do Alemão. He has been with Community in Action, as an active Board member and advocate, since we began in 2004. Walmir not only knows everyone in the community, which has helped build our local network over the past eight years, but he also understands the importance of keeping this vision alive to continue offering educational services in the favela. His dedication and commitment to the NGO has helped us navigate the legal landscape of non-profits in Brazil and establish partners throughout the region. In addition, Walmir's insight and awareness of the environment has allowed us to shape programs that target those in most need.
Walmir works as a community health agent for the municipality of Rio. He spends his days visiting homes in the area to support residents with health problems, while promoting health prevention best practices. He stopped studying when he was only 13 and began working full-time. After joining our team, however, he returned to school and is now is studying pedagogy at the State University of Rio de Janeiro (UREJ) (one of the best universities in the state). Walmir hopes to continue working for the government, either at the state or federal level. Although he has many priorities, he stops by our main office almost every day. His commitment to community outreach and social change are above and beyond the norm. Walmir is a community leader and an indispensable member of our team.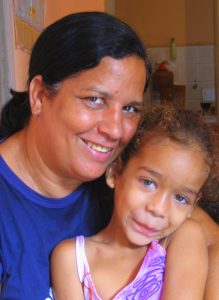 Rosângela Maria dos Santos – Administrative Manager
Rosângela lives in the Complexo do Alemão favela with her husband, son, and daughter (one mile from Community in Action). Rosângela has been working with Community in Action as the Administrative Manager since 2006 and was one of our founding Board members. She is responsible for the day-to-day operations of the organization: managing local finances, registering students and volunteers, teaching classes on sandal decoration, and continuously networking with community stakeholders.
Rosângela believes that Community in Action has enormous potential, given the collaborative environment and the popularity in the favela. She looks back when this project began and marvels at the growth that has taken place since 2004. She says Community in Action has changed her life and has given her the opportunity to become a leader. For 20 years, Rosangela worked as a house-keeper and was never given autonomy for what she did. At Community in Action, however, she is known as a primary community liaison and is loved by everyone involved.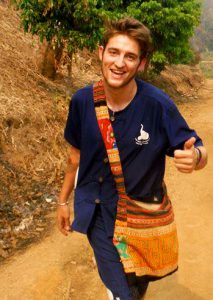 Dylan Brown – Operations Manager
Dylan grew up in Colorado and graduated from The University of Oregon in 2014, with a B.A. in International Studies and a minor in Business.  Dylan originally developed his passion for social work and Brazil during college, when he volunteered and studied for a over year in São Paulo. After graduating, he spent time traveling in South East Asia continuing his education surrounding grassroots NGO projects in developing nations. With his goal of always returning to Brazil, he joined Community in Action in January of 2016 and is excited about the opportunity to work toward empowering impoverished communities throughout Rio de Janeiro.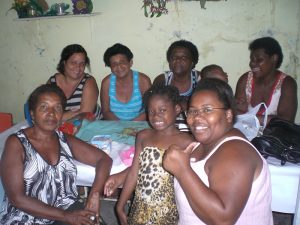 Local Volunteers and Partners
Aside from this operations team, we work with countless volunteers in the region to sustain our programs. Community residents teach classes, provide manual labor support, and continuously offer their services in-kind or at discount prices. In addition, we work with partners throughout the Complexo do Alemão to develop new outreach programs that make the biggest impact. NGOs, schools as well as public and private institutions allow us to work through unique avenues reaching those most in need. Without the local Community in Action network, we would not be where we are today. They are the true change agents behind this vision.