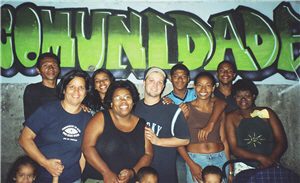 In June 2006, Community in Action launched an exciting new partnership with the Secretary of Employment of Rio de Janeiro. Through our newly established "Balcão de Emprego project" (Job balcony) we will serve as a liaison between the state government office and local residents in the favela. The goal is to mitigate the unemployment rate in the community while working together with government officials.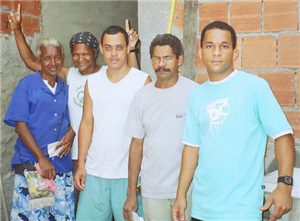 Unemployment exists as one the major hurdles that face residents in this slum as they seek to better their lives. Many people have been unemployed for years and have begun to lose hope. Despite some resources provided by the government, residents are reluctant to believe that the state is interested in helping them find jobs. Many are uninformed about the process of registering for unemployment, and when they do attempt to do so, the lengthy and costly journey to the center of the city often ends in frustration. Given that the state office deals with over ten thousand people a year it is unable to provide follow-up services for those registered. If there are no immediate job openings available, citizens are told they must return at a later time.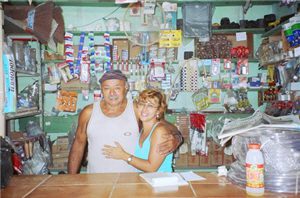 Community in Action, however, has created a special program that seeks to streamline this bureaucratic process. During specific blocks of time every week, anyone sent from the NGO to the state office is attended to with elite preference. If there are no immediate openings for job interviews, names of people sent from our organization are entered into a database. The placement office contacts them when an opportunity arises and residents do not have to keep checking-in.
Community in Action will work together with the government to track the project. We will take it upon ourselves to follow up on behalf of the community members who are still waiting for a job interview and we will ensure that the unemployment office attends to everyone who has registered through the NGO. It is our goal to continuously document all statistical information as it arises with this project: how many people per month receive offers, how many people must wait, which industries are involved, what training is needed, etc. By analyzing the outcomes and using specific administrative methods, we hope to expand and modify this program to become more responsive to the reality of rampant unemployment. Thus far, local residents have demonstrated enormous interest in this nascent project. Around 400 people have already been directed to the state employment office through Community in Action and many residents have found jobs through the program. It is a true success.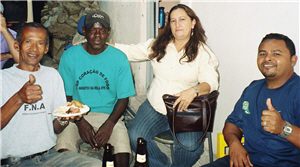 With an eye on the future, Community in Action plans to expand this project from a job finding program to a full-fledged vocational training program. Through our partnerships we will work to obtain funds, facilities and materials. If you would like to make a direct donation to support this project please visit the donations link and write: Job Balcony in the memo area of your check. Through our documented results, we will seek to make the necessary improvements that are required for job placement and consistently keep you updated. Our short- and long-term objective is to maximize employment opportunities for members of the community. We will teach fundamental skills not only to empower students, but to make them more favorable job applicants for the local market.