Mission
Community in Action empowers the impoverished of Rio de Janeiro through job training and education. Our technical and cultural coursework, personal development activities, primary and secondary school tutoring, educational seminars and partnerships with private and public entities seek to connect residents with academic and employment growth opportunities. We deliver the necessary skills and knowledge to our students and community partners that allow them to compete in the job market, expand their economic horizons, and make wiser and healthier decisions for themselves and their families.
Operating Model
The Community in Action (Comunidade em Ação) Operating model allows individuals interested in social entrepreneurship to select projects via this website, travel to Rio, and implement diverse community outreach programs. The CiA team will provide logistics support before you travel and upon your arrival, working directly with local residents in the favela. Although diverse projects are shown on this site, we are always open to new suggestions. All projects are flexible and we encourage proactive input to continuously enhance our services. Becoming involved with Community in Action is an excellent opportunity for anyone interested in International Development, Non-Profit Management, or Sustainable Enterprise.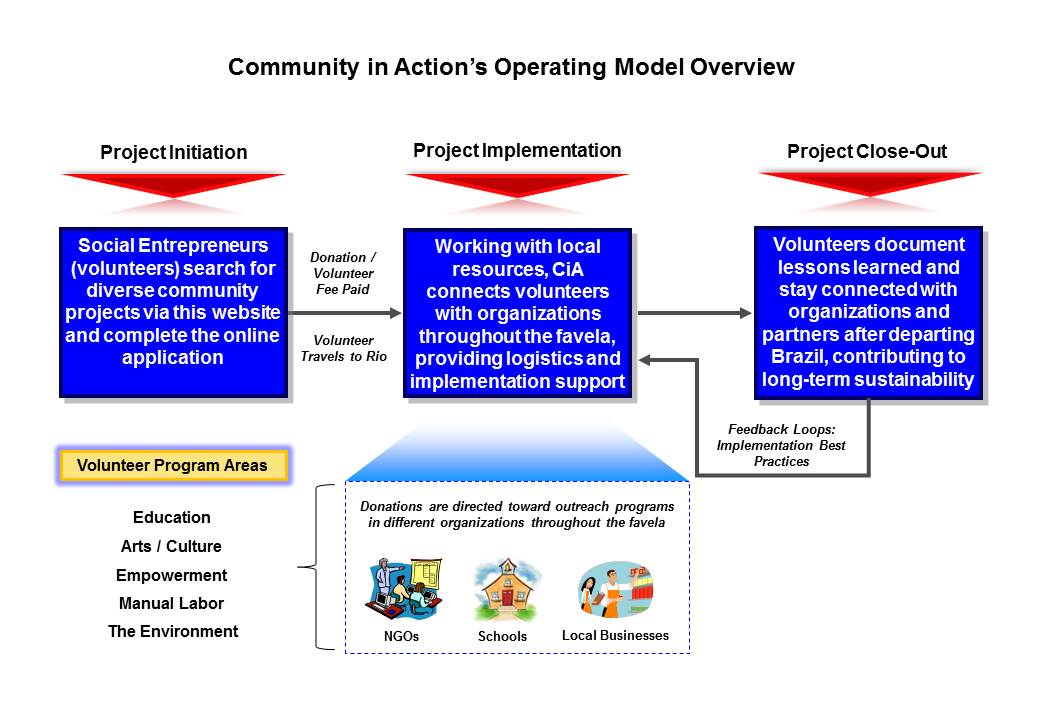 Benefits for Favela Residents
Local residents acquire new administrative skills and learning tools to achieve educational / occupational goals
Local residents learn about new cultures by interacting with foreign volunteers
Local residents obtain new educational resources (e.g., class materials, building supplies) that they would otherwise not have access to.
Benefits for Community in Action Volunteers
Foreign volunteers gain valuable work experience that can be used for future career and educational opportunities, working in one of Rio's largest favelas
Foreign volunteers have the autonomy to shape and implement outreach programs, learning how to manage grassroots change as a social entrepreneur
Foreign volunteers connect with local organizations and residents in the Complexo do Alemão favela through streamlined processes, learning about favela culture and new community development problem-solving approaches